Supported Independent Living offers a door to a new future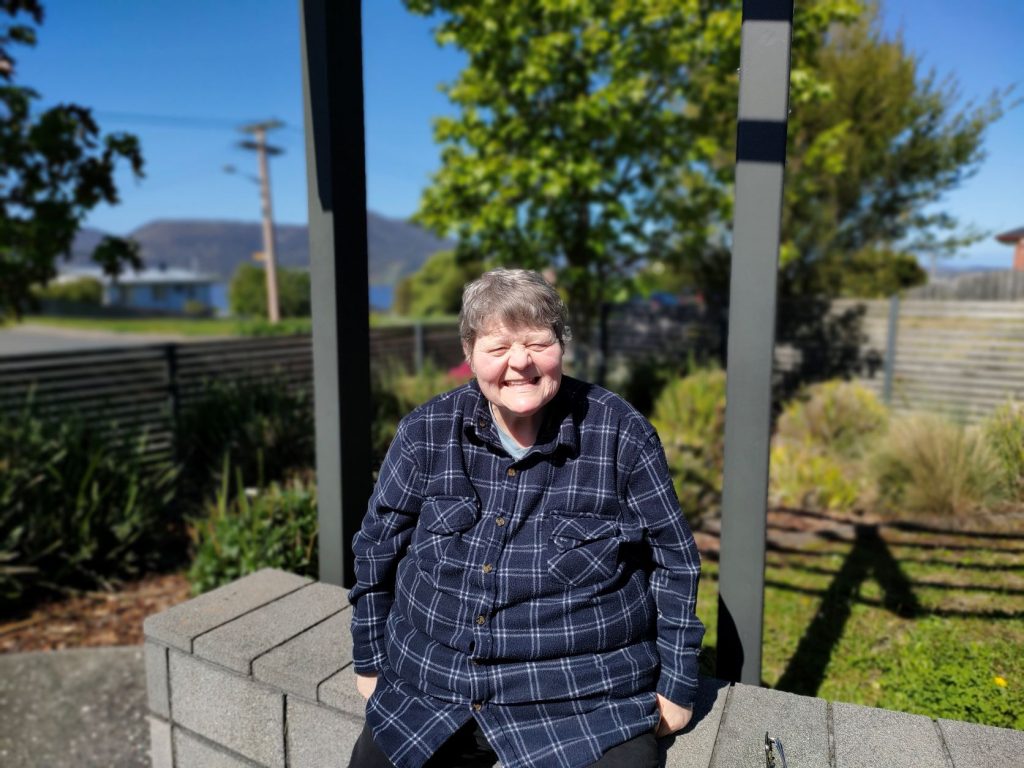 Anglicare's Supported Independent Living (SIL) offers a door to a new future for Tasmanians living with disability. It provides support when people's needs become more complex.
Sheryl Goscombe is the newest resident at a SIL property managed by Anglicare in Chigwell, in Hobart's northern suburbs.
She experiences challenges with her mobility and had used Anglicare's disability services for several years.
However, after time in hospital, Sheryl was finding it difficult to move around safely and do things for herself, and her confidence took a dive.
Her occupational therapists and social workers suggested SIL as an option and Sheryl was open to the idea. The Anglicare support team organised a review of her NDIS plan and looked into suitable SIL vacancies. Everyone – including Sheryl – was excited about a stand-alone unit in the Danina Street complex in Chigwell. She was taken on a tour and immediately gave it a tick of approval.
Sheryl's unit is spacious and bright. It gives her privacy when she wants to be on her own – although she does get on well with the seven other residents who live at Danina.
"The people who live here are like my new family. It's like a home. You get the support you need and it's better than being lonely," she says.
Sheryl enjoys drives and barbecues, catching up with extended family and helping out at the Eureka Clubhouse in Moonah, where she has been going for 20 years.
Her goal is to be able to spend more time out in the community. She currently uses a walker but is looking forward to accessing a wheelchair for longer trips out and about.
Another goal is to use her experience to help others.
"I used to be a consumer consultant at the Royal Hobart Hospital and I went on outings with people who were in the psychiatric ward," she says.
"I'm doing some courses through At Work.  I'm good at listening and giving options. I'm not afraid to speak my mind.
When you have anxiety and depression you've got to push yourself all the time. You've got to reach out and not be scared. There are a lot of people out there who do understand. We need more houses and more carers. We've just had Mental Health Week: next year I think I'll give a speech!"
Supported Independent Living at Anglicare
Anglicare currently has some vacancies in its Supported Independent Living properties. Read more about how this model of living works and details about our specific vacancies on our website.
How to apply
If you or a family member has an NDIS package that includes 'core supports – assistance with daily life' reach out to Anglicare's Intake Team on 1800 243 232 for a friendly and confidential chat. They will guide your next steps. You can also email us at NDIS@Anglicare-tas.org.au