Family ties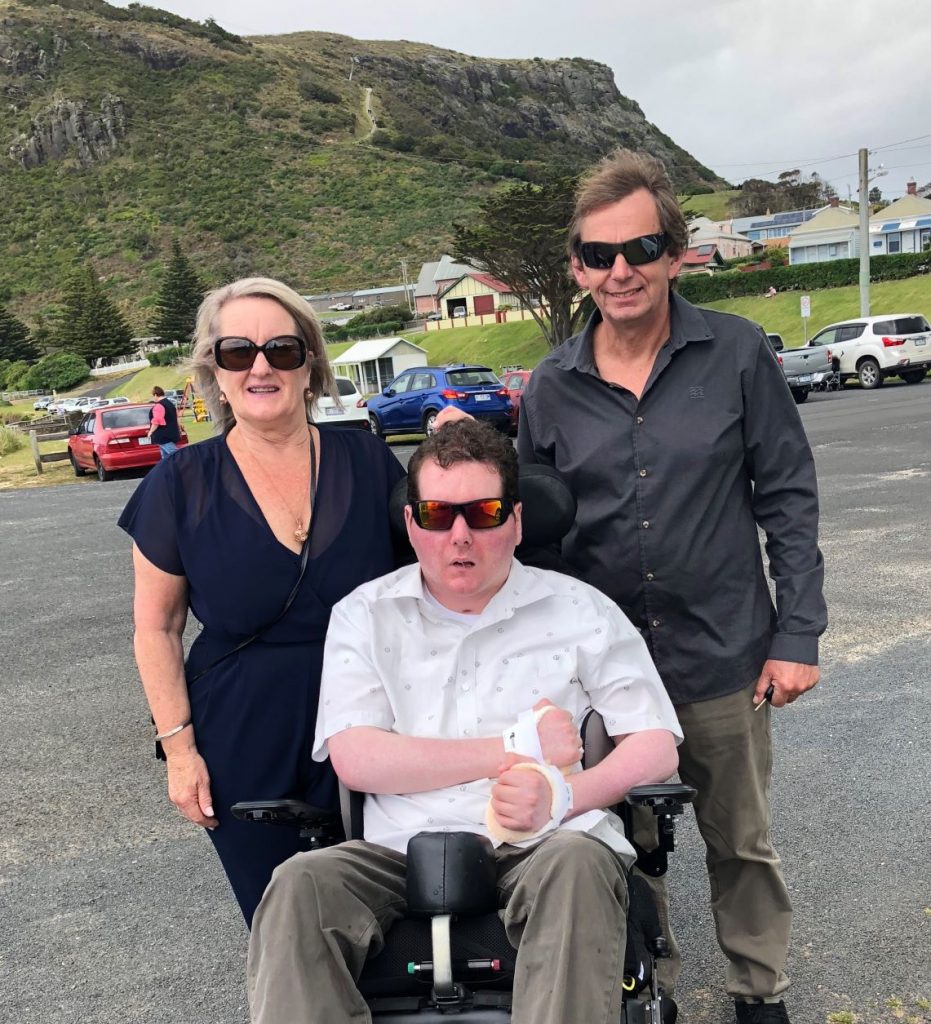 Seventeen-year-old Joel was driving three friends to a surf carnival in North West Tasmania in 2003 when his car over-corrected slightly going around a corner on a wet road, and he collided with a log truck.
While his friends were unhurt, Joel's brain was injured by a lack of oxygen and it quickly became clear that it would be a long road to recovery.  His family was only able to spend 10 minutes with him in the hospital at Burnie before he was flown to the Royal Hobart Hospital where he was to spend the next 10 months.
The accident had a huge impact on family life.
Joel's mother Trudy stayed in Hobart while her husband and daughter often passed each other on the highway, juggling visits with work commitments back on the North West Coast.
Joel spent two months in rehabilitation in Hobart before moving to Neena, a residential facility in Launceston that is owned by the Motor Accidents Insurance Board (MAIB) and managed by Anglicare.
It is compulsory for all Tasmanian drivers to pay third party insurance as part of their vehicle registration. The MAIB uses these funds to pay for the long term care of people like Joel.
"Joel was at Neena for five years," says Trudy. "We visited him three times a week and it was so hard leaving him there. We often talked about bringing him home. Then I found out that the MAIB was thinking of building another facility – in Launceston – and I thought, no way! I wrote a massive letter and constant emails over the next 18 months. I fought tooth and nail and got some politicians on board. When we heard the house would be built on some land in Ulverstone, it was such a relief."
The property, known as Lomandra, is now home to four people living with complex care needs.
Trudy recalls Joel as a teenager: "He played every sport; he was a year-round surfer. He was a very gentle, loving boy who got on with everyone. He was always pulling others out of trouble."
These days Joel enjoys music, movies and watching footy games, particularly when they feature the Hawks. When Trudy shows him photos of his friends on Facebook she notices he concentrates hard.
The MAIB provides clients like Joel with a paid, three-week holiday each year. Joel usually goes with Lomandra staff to respite homes that Anglicare manages in either Launceston or Hobart, where they have a hoist and room for his big electric wheelchair.
"We have so many things to be thankful for. Joel's carers are the best. The only way that he can communicate is to turn his eyes, [yet] they know him so well."
"Having Joel close by at Lomandra is just as good as having him at home," Trudy continues.  "And if his accident hadn't happened he wouldn't be living with us at home anyway."
How Anglicare helps
Anglicare Tasmania has been a preferred service provider to the MAIB for nearly 20 years. We provide both short term support and complex, long term care services to Tasmanians who have acquired a brain injury because of a car or motorcycle accident. This includes a range of accommodation offerings, from transitional units to supported independent living, and full residential care.
Liz Leslie is Anglicare's Statewide Manager for MAIB and Support Coordination Services.
"Some of our clients are referred to us because they need assistance with rebuilding independence as part of a rehabilitation program," she says. "The transitional accommodation and professional services we provide support the person to recover so that they can return to their local community.
"Some clients, like Joel, require support for the rest of their lives. While everybody's situation is unique, the common thread is the importance of maintaining connections with family, friends and community.
"The partnership approach we take with Joel's mother Trudy is a case in point. The facility we run in Ulverstone where Joel lives, Lomandra, would not have been built here if it hadn't been for Trudy's persistence and strong advocacy."
Main pic:  Joel and his parents enjoy a day trip to Stanley.
Getting out and about to places of natural beauty like Little Blue Lake in the State's North East is important to Joel, his family and carers.
More information
Please contact us at ndis@anglicare-tas.org.au or ring 1800 243 232 for details of the support available from Anglicare. Alternatively, mention our name if you're talking with the MAIB Claims Team and they will put you in touch with us.
A motor vehicle accident can impact on families' finances, mental health and interpersonal relationships. Anglicare can help you navigate these challenges as well, so please call us on 1800 243 232.
Helpful information about preventing and understanding acquired brain injury can be found at Brain Injury Association of Tasmania – the state's peak body for people living with or affected by brain injury.