"No family, no life", says Dave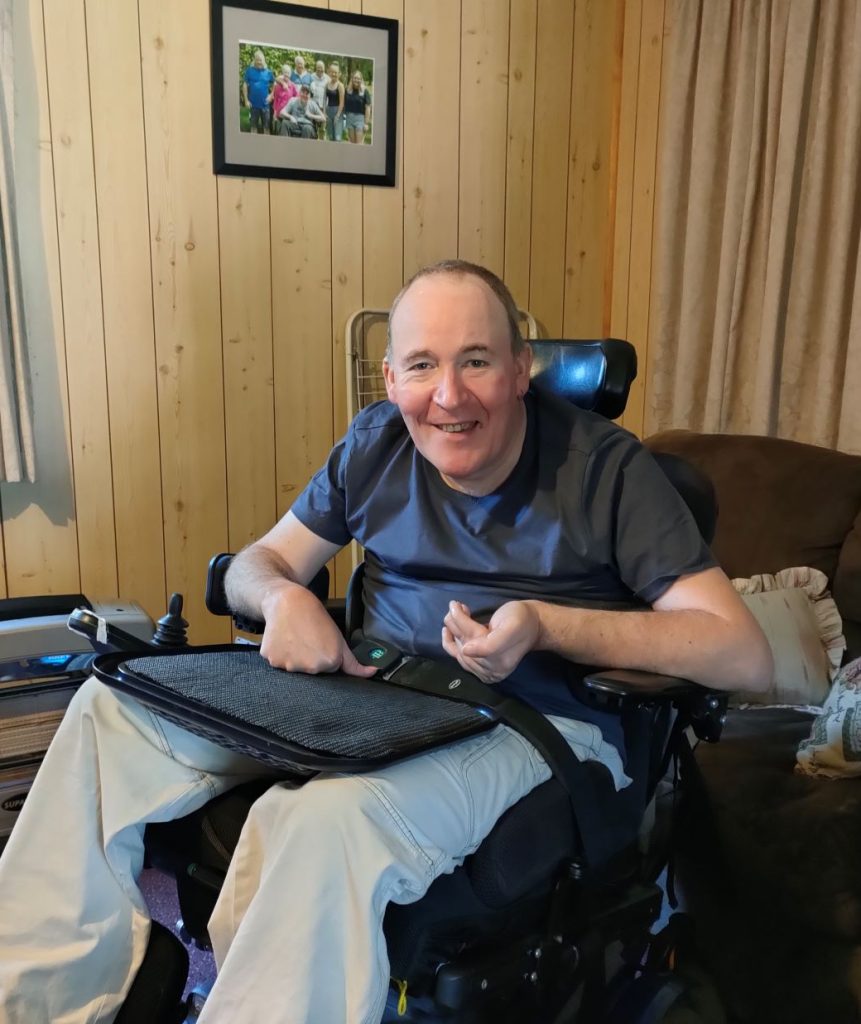 Dave Salter, 52, of New Norfolk, sustained major injuries as a passenger in a car accident 27 years ago and his personal goal was always to return home to live with his family.
Before the accident Dave enjoyed shooting and fishing and going out with friends. He worked at Tullah on the West Coast as a linesman for the Hydro, and says he worked and played hard.
The car accident was life-changing. Dave spends most of his time in a wheelchair and requires full support but he is philosophical about it: "Life goes on and your do your best," he said.
Following the car accident and a stint in hospital Dave lived at the MAIB-owned facility Caylea, in Hobart's northern suburbs. Caylea was operated by Eskleigh in the early part of that period before Anglicare took over its management. Dave adjusted quickly to his new circumstances and gradually increased his independence. He spent some time in a transitional unit before moving back into the community.
For the last 10 years, Dave has lived in a unit underneath his parent's house on the banks of the Derwent River just outside New Norfolk. His two older brothers and two nieces all live close by and call in regularly.
"Family comes first," said Dave. "No family, no life."
"Known and understood"
Dave loves his local community and is a familiar face around New Norfolk. Nearly every day he'll go "up the street" to New Norfolk with one of his Anglicare support workers. (He reckons you can't go past the scallop pies in Banjo's.)
"I am known and understood here. It's very handy. When I go to Glenorchy, people are strangers," he said.
Dave also enjoys trips to the Salmon Ponds and counter meals at the local pub, watching movies and playing computer games. His unit looks out over paddocks that go down to the river and he likes to watch the chooks, geese and cattle on the family property.
One of Dave's support workers, Stephen, has supported him for the past 10 years. He says Dave's naturally positive mind-set and sense of humour make his work day enjoyable.
"I'm a stirrer, it comes from my Dad," confirms Dave.
The support Dave receives form Anglicare enables him to maintain his health and mobility. He walks with support and a walking frame at his physio sessions and also has regular hydrotherapy sessions.
Having achieved his goal to move home, Dave continues to challenge himself. His next goal is to walk alone.
Another longer-term goal Dave mentions is a trip to Queensland with a friend who he used to go to school and work with. "One day, there's no hurry," he said.