Cherie is people's champion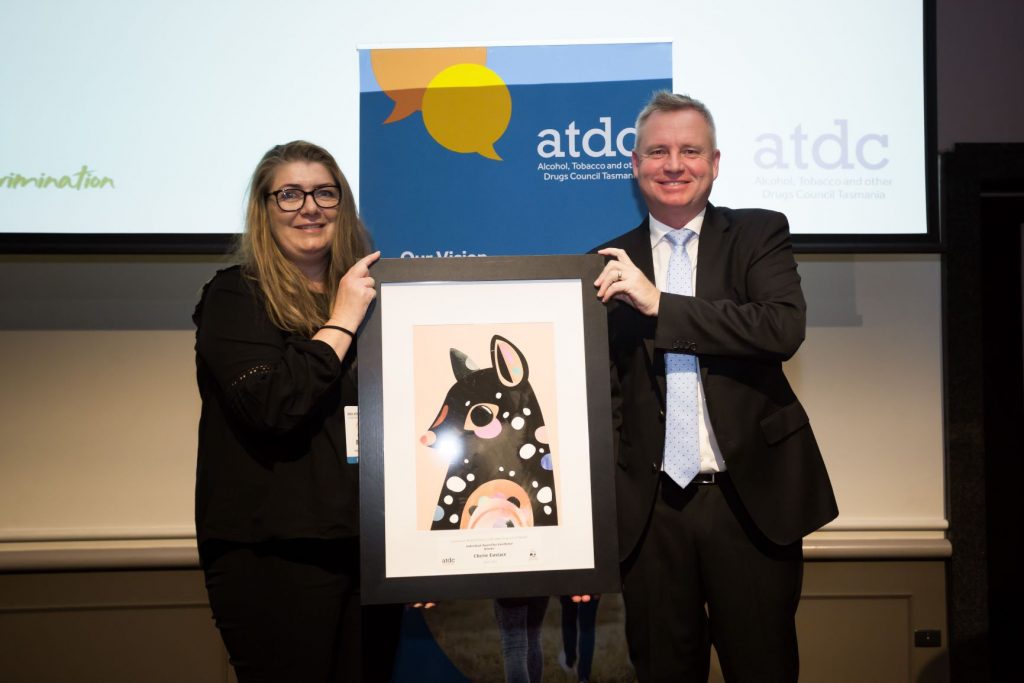 Cherie Eustace is a health and wellbeing addictions practitioner who works with people in Anglicare's alcohol and other drugs program on the North West Coast.
Last month, Cherie was presented with the Individual Award for Excellence by the Minister for Health Hon Jeremy Rockliff MHA at the annual Alcohol, Tobacco and other Drugs Council conference.
The nomination described her as a champion of the people she works with, and "a crusader against stigma and discrimination".
Anglicare's Regional Manager for Housing and Community Services (North/North West) Jodie Stokes congratulated Cherie on the award: "Cherie's compassion, professionalism and knowledge is outstanding," she said.
Cherie delivered a presentation at the Hobart conference, focused on the lived experience of Stephen, who first came to Anglicare when he was experiencing homelessness. Stephen is proud of his journey and has kindly agreed to share his story here.
Stephen's story
When Stephen first sought assistance in 2016, he was 38 years old, and had been homeless for the previous seven years. Estranged from his family and often mentally unwell, he was honest about his addiction to methamphetamines and morphine.
Stephen was adamant that all he needed was a night off the street so that he could sleep in safety, have a hot shower and watch the news. The assessment worker at Housing Connect agreed to this request on the condition that he have a coffee with an Alcohol and Drug Worker – who happened to be Cherie.
Cherie bought Stephen a coffee and something to eat and they began to talk about his past. Stephen had been raised in a family with strong values; he'd previously been a property owner, musician, carpenter/joiner, partner and father. They talked about how a relationship breakdown had exacerbated pre-existing mental health issues and increased his reliance on drugs.
Over the next two years, Stephen's recovery journey included a violent physical assault that threatened his life and required brain surgery; other periods of homelessness, mental ill health, difficulties connecting with services and several relapses.
Throughout this time, the company of his loyal dog kept him going and gave him focus. Gradually and with tailored support, Stephen turned his life around.
Stephen has been drug-free for four years now and has reconnected with his family. He has rediscovered his love of cooking, got back into guitar and drumming and taken up road cycling.
"Stephen is incredibly resilient and his recovery is courageous," Cherie told conference participants.
"Stephen said to me: "No one in my life could look past the junkie that was standing in front of them, but you saw there was more to me."
Have you heard of the AOD Helpline?
Cherie was instrumental in the establishment of the Alcohol and Other Drug Helpline, which has made information and support available to many Tasmanians. Anyone struggling with their alcohol and/or drug use or who has a friend or family member or client in this situation can ring 1800 161 266 to speak to a trained professional.  This is a free and confidential service that runs between 9.00 a.m. and 5.00 p.m. Monday to Friday and it does not require a referral.