The word is out on the streets of Zeehan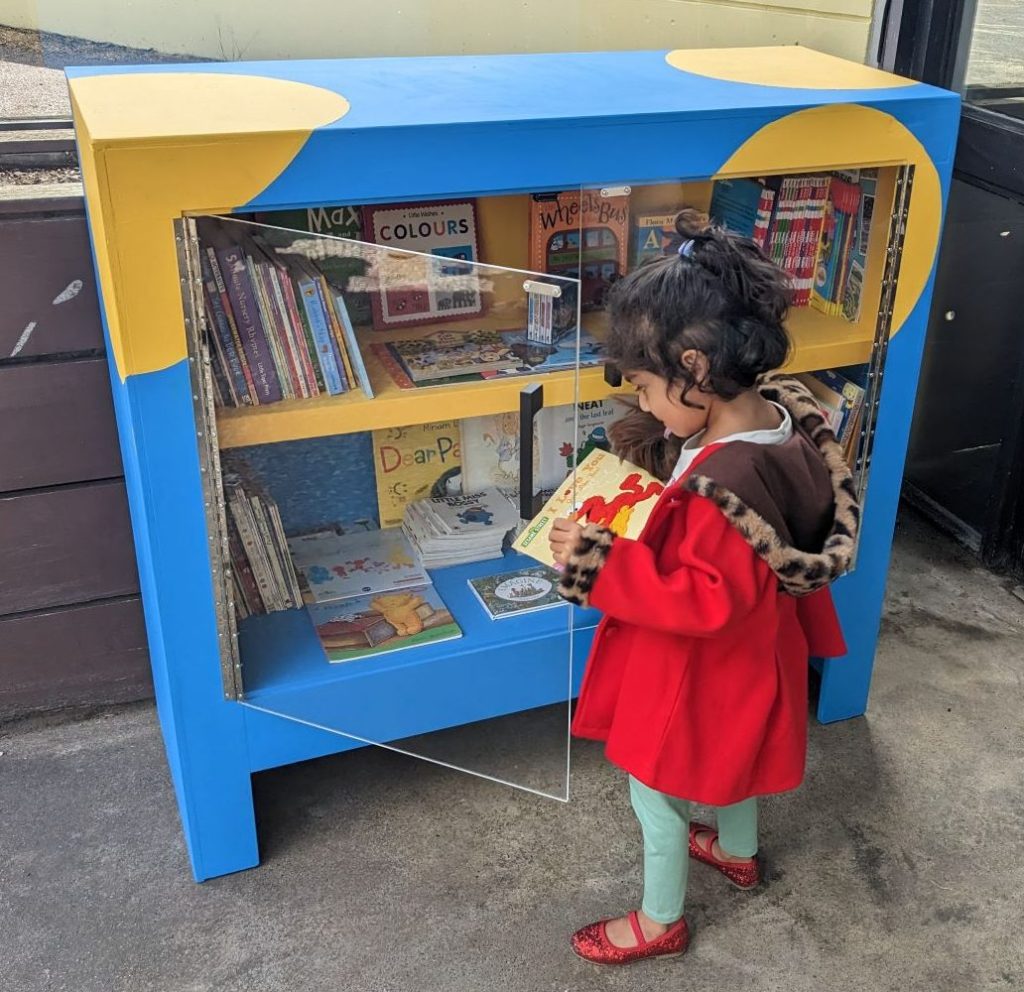 A children's street library is a new resource for the community of Zeehan on Tasmania's West Coast.
The seed for the project was sown some time ago after Launceston teenager Angus Scott donated more than 1,000 books to Anglicare.
Lyn O'Grady is a practitioner in Anglicare's West Coast Support Service. She was determined to find a way to use the books for good.
"So many books, what to do, what to do?" she recalls.
"Our service is all about parenting, developing healthy brains, supporting parents and raising resilient kids," she explains.  "What better way to support families than offering stories, words and opportunities to connect?
"We consulted with Libraries Tasmania – West Coast Reads and came up with the idea of a street library for kids, to be located right outside the Anglicare office in the main street.
"We wanted it to be bright and at children's eye-level, so it was a perfect construction project for the team at the Zeehan Men's Shed.
"We knew that the operators of Avebury Nickel Mine had funding available for community projects. They were very happy to donate the funds for the purchase of supplies."
Liz Youd from the Avebury Nickel Mine said: "It is wonderful to see people working together for our community's development."
Libraries Tasmania is supporting the project as part of its Tasmania Reads celebrations. Tasmania Reads encourages all Tasmanians to read more, more often.
The Libraries Tasmania – West Coast Reads team services four West Coast libraries located in Queenstown, Rosebery, Strahan and Zeehan. It has put together kits that will be distributed to local industries and organisations  including mine crib rooms and Men's Sheds. The kits will be handed out in the last week of February and through the month of March.
"The word on the street – and in the whole community – is that it's been a grand idea," Lyn O'Grady said.
More information
Anglicare's West Coast Support Service
Tasmania Reads: if you or an organisation you belong to would like to join this campaign, please email Tasmania.Reads@libraries.tas.gov.au
Main photo:
Anantha enjoys choosing a book from the new street library in Zeehan.
Pictured at the launch of the 'Word on the Street' project in Zeehan are (from left) Peter Scott, Stephen Youd and Clive Starkey from the Zeehan Men's Shed and Averbury Mine General Manager, John Lamb. Wynta is in the foreground.