George shares his knowledge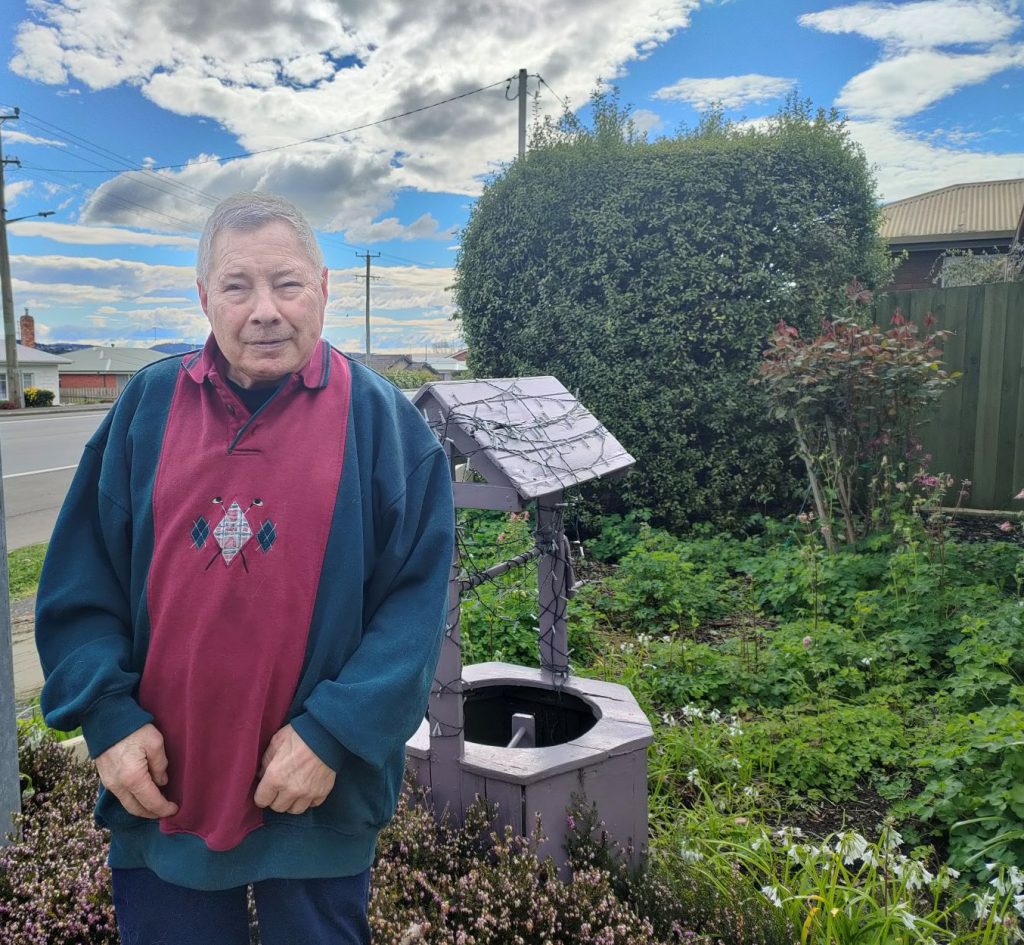 George Yow is a man of many talents. He completed a Fine Arts degree at the age of 60 and is a stalwart at his local Men's and Community Shed. Sharing his knowledge gives him great pleasure: "Why waste it?" he asks.
George, 73, is one of the original members of the Ravenswood and Community Shed in Launceston's northern suburbs. He spends most days there, supervising people new to woodwork and contributing to consignment projects such as garden furniture and contract work for an oyster farm on the East Coast.
It's an environment he's very comfortable in.
"I've always loved making furniture either from specialty timber or scrap wood, I don't mind," he says.
"From the age of four I was my father's "left-hand man" in the family wood yard. As a boilermaker/welder I did a lot of sheet metal work and after that I worked in the construction gang for the Port of Launceston.
"Here at the Shed we have five ladies, grade 6 students from Ravenswood Primary School and 'Work for the Dole' groups who work in our garden as well as the Shed.
"We have big machines here and my job is to make sure everyone is safe," said George. "I thoroughly enjoy it."
George describes sea fishing as his "biggest passion". It's something he's done since he was a young child in the Tamar and on the East Coast. His most recent trip was with a mate off Waterhouse in the North East for 10 days last summer. "I slept in my van and the salmon we caught were scaled and gutted and put straight on the BBQ," he said.
George enjoyed spending time with the international students he studied alongside at the University of Tasmania's art faculty in Launceston. He still volunteers at the University gallery. He shared his love of art with his wife of 45 years, Diane, who also held a fine arts degree. Diane passed away two years ago after living with Parkinsons Disease for 15 years. During that time, George was her full-time carer.
George has used Anglicare's home care services for the past six years. Prior to the pandemic, his outgoing personality and interest in people saw him act as a client representative on panels interviewing for new staff.
A keen gardener, George is looking forward to moving into a new unit that is very close to the Men's Shed complex: "I can't wait," he says.
PHOTO: George is pictured outside his unit. He made the wishing well.
Anglicare supports the Every Age Counts campaign.
You can find out more about the services we offer to older Tasmanians here.