Fair winds for Peter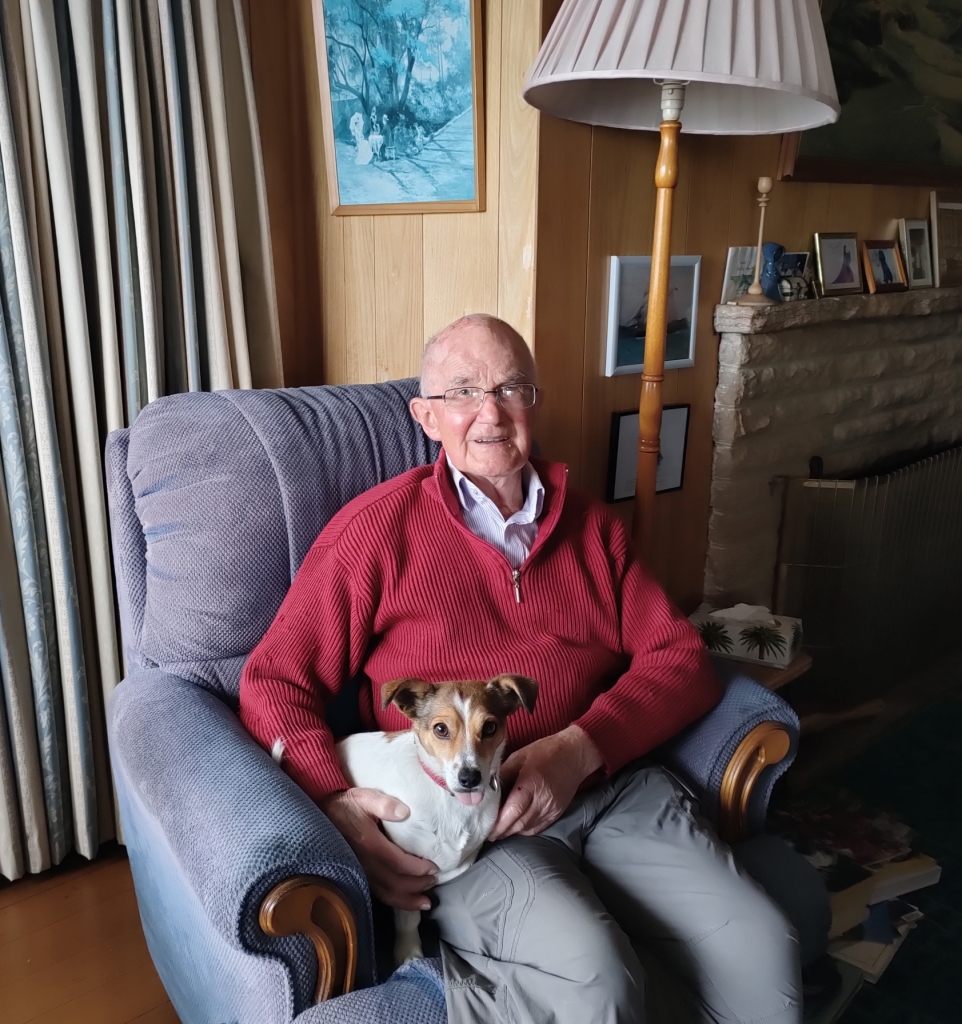 At nearly 94, Anglicare client Peter Attrill's life so far has been filled with sailing honours, overseas adventures and a close-knit family.
Peter was born on King Island where his parents were farmers. His house in Howrah is surrounded by a large garden that goes down to the high watermark. It's the perfect place to watch the Sydney to Hobart yachts come in. A veteran of five Sydney to Hobart yacht races himself, Peter takes a keen interest in activities on the river and in particular the finishing stages of the major races.
Peter built his own home in 1957 and it has expanded over the years to include a waterside cabin, which is very handy when family members come to visit. With four children, 10 grandchildren and six great-grandchildren, it gets regular use.
In the blood
Peter says he inherited his love of sailing from his grandfather and father.
"We grew up in Glenorchy and our nearest club was the Austins Ferry Yacht Club. It was never a goal of mine to represent Australia. In our first year of competing I think my brother and I either came last or second last in every race, but by the time I was in my early 20s I was winning and I thought maybe I could have a go."
Peter represented Australia in sailing at the 1952 Olympic Games held in Helsinki, Finland. "I didn't do very well – I was just a home town boy without much experience," he recalls.
Nevertheless, it was only the second time that Australia had been represented in an Olympic sailing regatta and Peter was the first Tasmanian to participate in one. That same year he competed in his first Sydney to Hobart race:  "It was the eighth edition, still in its early days. I went with Jock Muir, so I learned from the master," he said.
Speaking the language
"My wife was a nurse – and she had wings on her feet," said Peter. "We went to Europe together at least four times, including two trips to Italy.
"I love practicing languages, particularly Italian and German. It's been enormously helpful in some funny situations at train stations and youth hostels.  My crummy German assisted some Asian tourists to find what they were looking for in Berlin once, so I was pleased about that.  Berlin is my favourite European city. German people like it when you have a go at speaking their language."
A guest of honour
Last month Peter was presented with the Barranjoey Pin at the Royal Yacht Club of Tasmania in recognition of his sailing achievements.
He encourages anyone with an interest in learning how to sail to contact their closest yacht club. As a life member of the Bellerive Yacht Club, Peter enjoys a weekly catch up there with friends.
Are you eligible for a home care package?
Anglicare manages Peter's home care package. We have tailored his service to include cleaning and gardening services. Peter is very happy with the regular spruce-up his beloved garden gets from the team at Sage Gardening Services.
Find out all about our aged and home care services here. 
Do you care for an older Tasmanian?
Anglicare's service can also provide important respite for family members.
National Carers Week (15-21 October) celebrates 2.65 million Australians, including 80,000 Tasmanians, who provide unpaid care and support to a family member or friend.
Have you heard about the free and friendly support that is available through the Carer Gateway service?
Take a look at the Carers Tasmania and Care2Serve webpages.  Care2Serve is the portal to the Carer Gateway service in Tasmania.
MAIN PIC: Peter Attrill relaxes in his Howrah home with his devoted companion Josephine.