A life filled with love, art and colour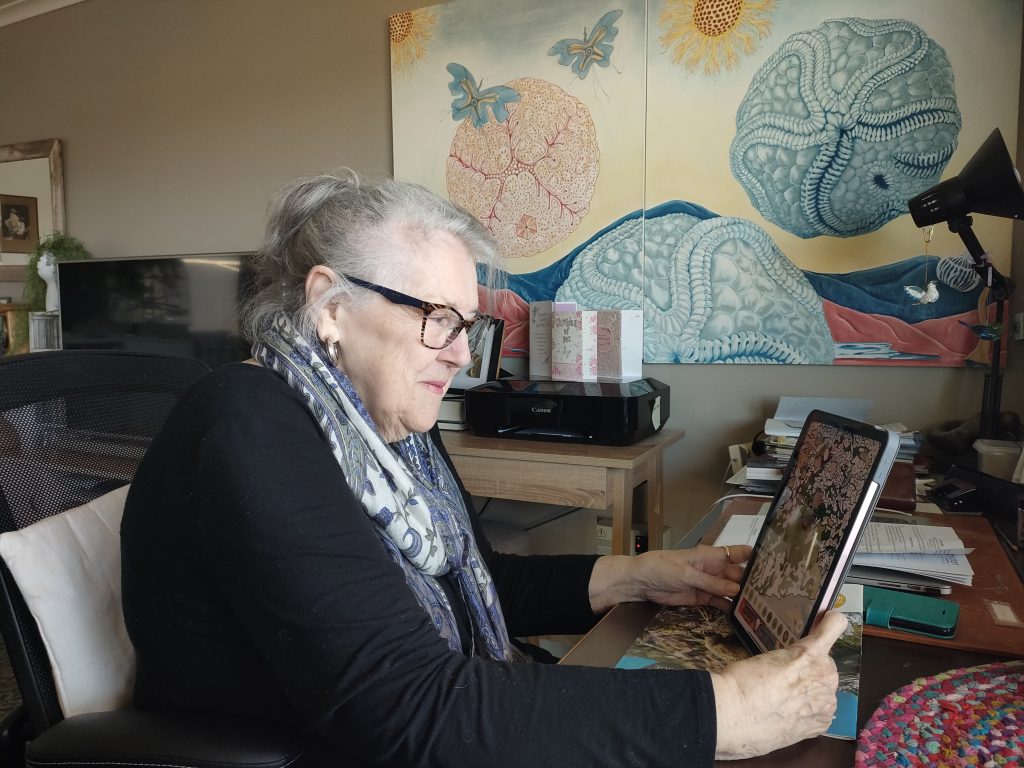 Lee Wright is a client of Anglicare's Aged Care Services. She reflects on family, art and the value of taking up a new hobby.
A published author and illustrator, Lee owned and ran floristry businesses in Hobart and graduated with a university degree in Fine Art at the age of 60.
Her home – shared with British Shorthair cat, Puck – is full of vibrant canvases, fresh floral arrangements and fashion drawings.
Lee's Anglicare workers support her with nursing care, personal care and cleaning – giving her more time to spend on her various art pursuits.  "They are all lovely," she said. "Kayla is wonderful and Jasneet is a breath of fresh air!"
A new hobby
Lee's  beloved husband of 63 years, Ron, passed away four years ago and since then she has found it more difficult to focus on her artwork. "I find that surrounding myself with colour helps me," she says.
A couple of weeks ago Lee's daughter Deborah introduced her to an online 'painting by numbers' program that she uses on her tablet. "It's free and it can be as simple or as complex as you like. I'm doing a Monet flower arrangement at the moment that is really challenging my brain!" she said.
"Something is changing in me. I feel more blessed today than I have for a long time. I have problems with my voice but I recently had an assessment with a speech pathologist and we think I'm getting better. This new hobby is helping me to do something that is me.
Community spirit
Lee drew inspiration for her art from the rugged beauty of the West Coast landscape where she and Ron lived for nearly 20 years. The Queenstown art scene was in its infancy and she ran a studio that was open to painting and printmaking students. Ron was the president of the Tullah Progress Association and Lee was its secretary. "The community embraced us," she recalls. "We knew everyone and we all cared about each other. I learned a lot about myself and my heritage there."
Accolades for children's book
At around the same time that her husband first became ill, Lee wrote and illustrated a children's book, "Molly and Pickles", that was a finalist in the Premier's Literary Award in 2003. It was picked up by Australian Geographic and sold around 2,500 copies.
Lee has a loving family and she treasures memories of her marriage with Ron:
"We lived our life in love. His spirit is with me."
Main pic above:  Lee 'paints by numbers' on her tablet.