Rest and reach out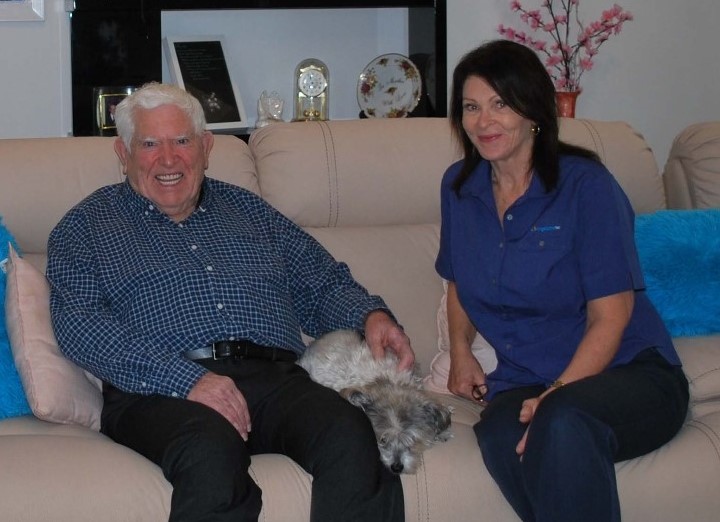 This week is National Carers Week. The theme is "Millions of reasons to care", celebrating the 2.65 million Australians who provide vital care and support to a family member or friend.
While caring can be rewarding, it's often also demanding. It's estimated more than 235,000 young carers are still at school, while others juggle their caring role with paid work. Older carers often face challenges with their own health as they age.
Anglicare's Home Care team sees these carers' dedication and compassion at first hand. Ted Evans of Burnie cares for his wife Gillian, who has dementia. For the past few years the couple has received personal care, cleaning services and social support from Anglicare's North West team. These services increased in recent months after Ted had a stint in hospital with a spinal injury.
"I can't fault any of the Anglicare staff," he says. "They're all very good. Gillian relates really well to Sue, and in my opinion, Denise is worth 120% in gold stars!
"We used to live in a big house in Upper Burnie and Anglicare helped us to find a nice unit that's on the flat and only five minutes away from the hospital. They went out of their way to help."
Ted says the importance of rest hit home earlier this year when he had a period of respite.
"At the beginning of this year I was really suffering," he said. "I was overwhelmed with worry … I was broken. The respite took away my worries. Everyone commented that I had my colour back, my eyes were clear and I could get around a lot easier. It made me realise how careful I had to be to not get into that situation again."
Ted's top tip for other carers is to talk to family members and health professionals, particularly when the needs of loved ones start to change.
"Talking will help you plan," he says. "You can't bottle it up."
Do you need support?
Carers Tasmania and its direct service delivery arm, Care2Serve can provide you with support through the Carer Gateway. Call 6144 3729, email intake@care2serve.com.au  or check their website here.  You can also follow Carers Tasmania on Facebook – it's a great way to keep up with news and events.
My Aged Care
If you want to check your eligibility and to be assessed for support services, click here to access the My Aged Care website or telephone 1800 200 422 (free call).
Anglicare Home Care services
If you have been approved for a package and you're ready to find a service provider, find more information on our website or call us on 1800 466 300.
PIC: Ted Evans and his Anglicare worker, Denise.