Planting the seeds for strong mental health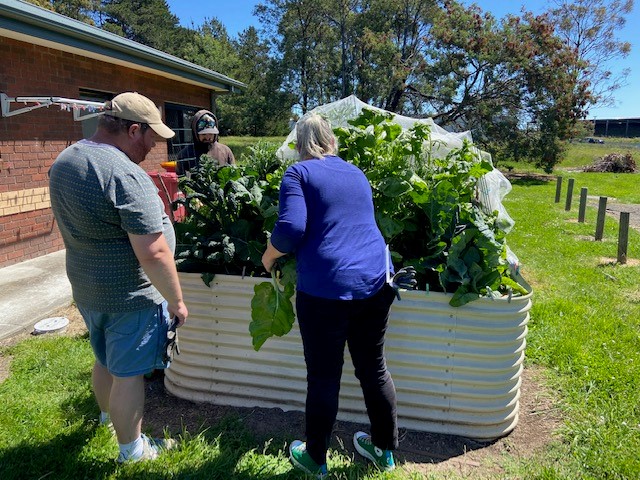 The service is located in bushland at Rocherlea on Launceston's northern outskirts. It provides non-clinical care to people who are recovering from mental ill health. There are five self-contained rooms for people who would like intensive, short term support. There are also 10 units available for people who will stay for a longer period.
Anglicare works in partnership with the Tasmanian Government's Adult Community Mental Health Service. Together they implement tailored care plans and help people achieve their recovery goals, including returning to independent living in the community. People are well supported during their stay and encouraged to connect with their families.
A gardening program introduced around 18 months ago is providing a sense of purpose for a small group of participants.
"We decided to breathe some new life into our vegetable garden and we're very excited by the results so far," said Program Manager Alisha Turner. "Our garden beds are looking loved and healthy and we're all learning about the importance of better nutrition. The native plants we've put in are bringing in the birds. And the people Anglicare supports are learning new skills that they can share with their local community."
Team member Rachael Long is leading the program. A qualified social worker, she also has a Certificate 3 in Horticulture and a permaculture design certificate. Rachael has a keen interest in the potential of therapeutic horticulture to promote physical, psychological and social wellbeing.
Therapeutic horticulture improves people's quality of life and builds their resilience. It develops positive habits that add structure and rhythm to people's lives. This can be particularly important if people are recovering from mental illness, trauma and grief.
Therapeutic horticulture has environmental sustainability at its core. A vision for the Rocherlea site is that it is an inviting place for people, flora and fauna. This includes efforts to grow more food on-site and manage the risk of bushfire.
Alisha says one regular participant has taken to the program like a duck to water.
"This gentleman has assisted us to start setting up a composting system, and improved the soil in our garden beds with mulch," she said. "He said to Rachael recently, 'You've taught me everything that I know about gardening.' Now he's researching ways in which he can take his new skills back into the community as he has recently successfully completed his program with us."
More information
Rocherlea Rehabilitation and Recovery Services is funded by the Tasmanian Department of Health.
You will need a referral from the Adult Community Mental Health Service to access the service.
Find out more about therapeutic gardening at the Therapeutic Horticulture Australia website.