Rocherlea provides a homely oasis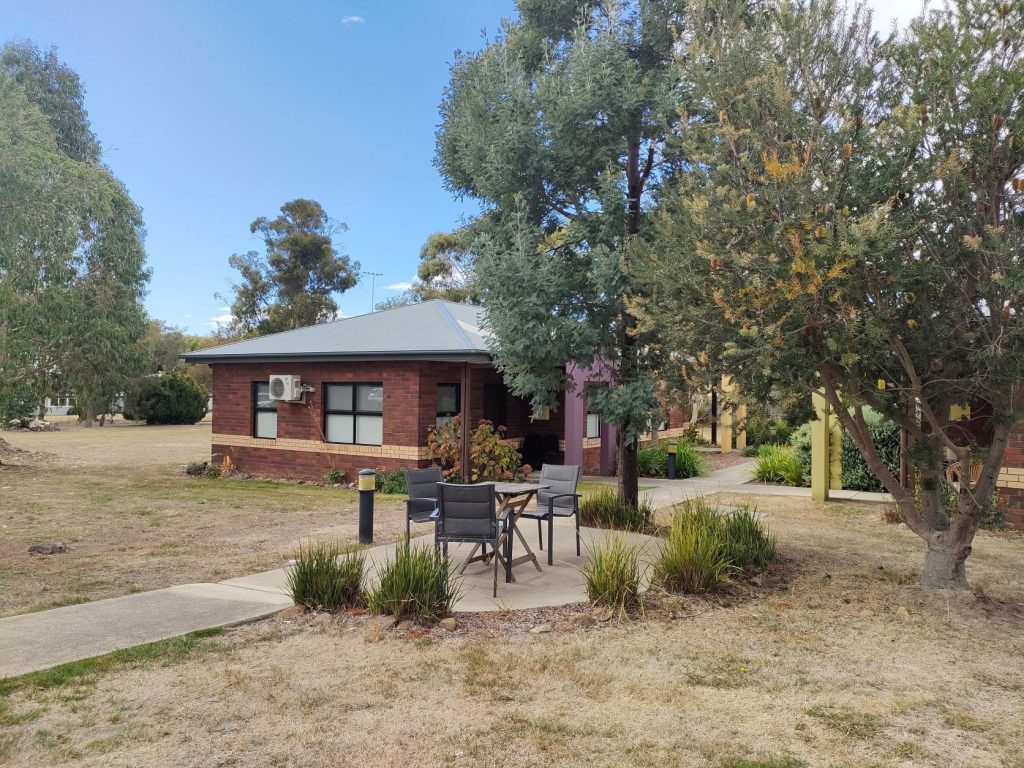 Anglicare operates a residential service in Launceston's northern suburbs that provides an oasis of safety and calm to support people's recovery from mental illness.
The Rocherlea Rehabilitation and Recovery Service offers therapeutic, non-clinical care to adults in a home-like setting.
A central building houses 5 self-contained rooms for people who would like some intensive, short term support. There is a communal kitchen, living room and courtyard.
There are also 10 units set up for people who will stay for a longer period as they transition towards independent living. Each unit features a bedroom, bathroom, kitchen and open plan dining and lounge area.
The grounds are sunny and park-like, dotted with gum trees, native plantings and outdoor seating. There is also a basketball hoop, recreation shed, barbecue shelter and raised vegetable beds.
"Sometimes all you can hear is the birds," says Anglicare Program Manager Alisha Turner. "It's a relaxing, quiet environment away from the hustle and bustle. Many residents are experiencing anxiety and depression and they find the peace and quiet helps them with their recovery."
Working in partnership
Anglicare works in partnership with the Tasmanian Government's Adult Community Mental Health Service to implement individualised care plans for people while they are living at Rocherlea and to support them to transition back into the community.
There are two programs on offer, depending on the person's timeframe for recovery.
Anglicare uses the Step Up/Step Down model as the basis of the psycho-social rehabilitation service we offer to shorter-term residents. It's a step in between clinical, inpatient care and community care. People accessing this service usually choose to live at Rocherlea for up to four weeks.
People who need longer term support to transition to independent living are able to stay in the stand-alone units for up to two years.
Anglicare's General Manager Housing and Community Services Noel Mundy says people set their own goals and are free to come and go. They are also encouraged to stay connected with their families.
"We have 14 staff on site to support them to gain independent living skills, improve their physical health via exercise and a good diet, attend appointments and become active in their local communities. This can also include supporting them to access further education and employment," he said.
The importance of hope
Noel Mundy says the service reflects and embodies Hope, one of Anglicare's values.
"The Rocherlea service focuses on supporting people to reach their full potential," he said. "Rehabilitation and recovery from mental ill health is possible for everyone where the right supports are in place.
"Unfortunately there is still a lot of stigma associated with mental ill health and this can act as a barrier to people seeking support in the first place and becoming well enough to return to independent living in their local communities. We know that being part of a local community is essential to positive mental health and wellbeing. The Rocherlea services gives people the opportunities and support they need to become and stay well."
Are you interested in finding out more about living at Rocherlea?
You will need a referral from the Adult Community Mental Health Service to access the Rocherlea Rehabilitation and Recovery Service.
Rocherlea Rehabilitation and Recovery Services is funded by the Tasmanian Department of Health.