Congratulations to course graduates at Eveline House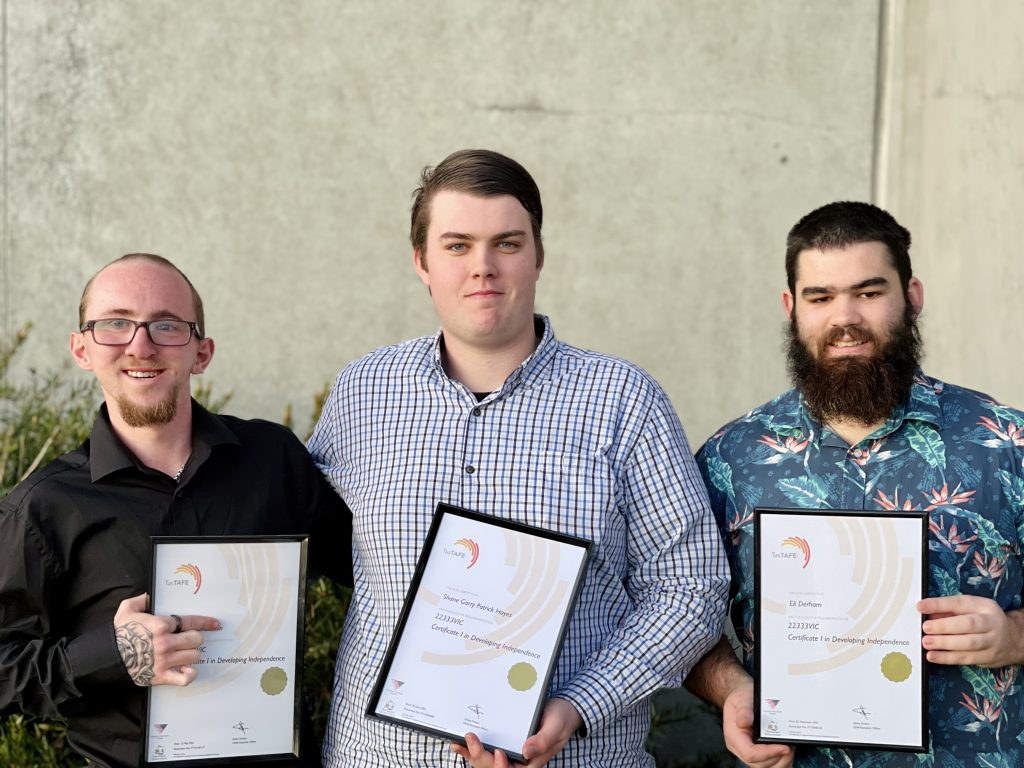 Five young people living and learning at Eveline House in Devonport celebrate a milestone in their journey to independence.
Ebony, Shane, Eli, Dylan and Sarah are enrolled in the two-year Youth2Independence program (Y2I) with Anglicare.
A requirement of the program is to complete the Certificate 1 in Developing Independence through TasTAFE. The Certificate is a short course created to support students to develop the skills and knowledge they'll need as independent adults. It features personalised coaching sessions with a teacher from TasTAFE and an Anglicare team member.
"The course encourages students to develop their unique talents and strengths, and identify pathways to achieve their personal goals," explains Anglicare Youth Development Coach Christian Benton.
"We guide the young people through what we call the six 'service offers' that are the framework for the Y2I program: education, employment, health and wellbeing, social connections, community participation and housing and living skills."
The five graduates were joined by other Eveline House residents and Anglicare team members at a special graduation ceremony recently. Pictured above are (from left) Dylan, Shane and Eli.
"We congratulate each of these young people and look forward to seeing what they do next," Christian  says.
Here's what the students had to say about the course:
"The Cert 1 graduation was fun and enjoyable, I found this time motivating to complete my Cert 1 in DI"
"I found the Cert 1 easy to work through and complete and learned more about how to become independent"
"The course has the potential to affect my life in a positive way moving forward into the future"
What is Youth2 Independence?
Anglicare manages Youth2Independence facilities on behalf of the Tasmanian Government at Eveline House (Devonport), Thyne House (Launceston) and Trinity Hill (North Hobart). We will also manage a new facility in the Hobart CBD that is currently under construction.
The Y2I program is based on the concept of Advantaged Thinking.
It is designed for young people aged 16-24 who are, or who have been, at risk of homelessness.
Anyone who is interested in joining the program will need to contact Housing Connect in the first instance.